A new revolution in building automation industry is called Home Automation which can be controlled your home with the help of advanced technology. Every home need to have a smart system to controlling lights, Air condition, sound system and security system. Smart home system not only using an advance technology in everyday home functions but also saving energy. Yes, it controls your energy usage and saving environment.
KNX is a OSI based standard protocol for home control. European Installation Bus (EIB) cable used for the connection, it is capable to transmit and receive the status of the light. So we can on or off the lights and get the notification that it is on or off, if A/c then we can get the cool temperature at the display screen.
It gives you complete centralized solution, we can control from anywhere to anywhere switching and dimming lights, controlling A/c temperature and music systems action through control panel or smart application from your mobile or tablet.
The work process to smart villa automation
The know-how and experience acquired during many years of operating in UAE and installing our solutions in numerous flagship villas has led us to develop a process based on a large before/after-sales technical department who are responsible for supporting and executing in great detail the fulfilment of your requirements to achieve the successful villa automation you envision.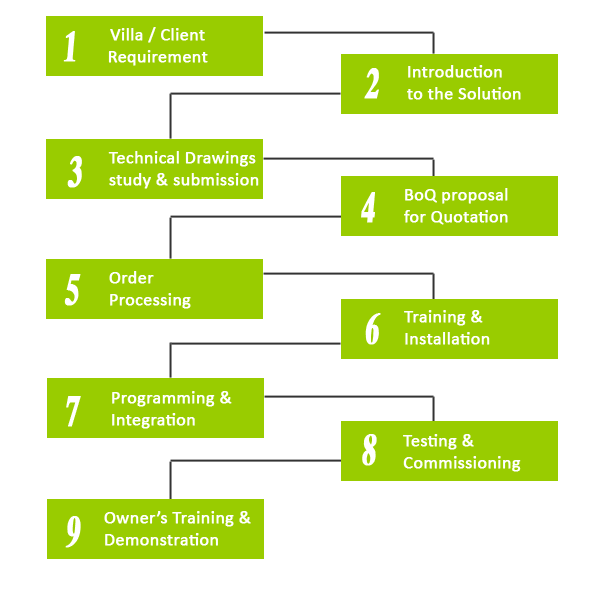 10 Benefits you will obtain by automating your villa.
1. Appreciation of your villa.
2. High value and exclusivity to villa owners and tenants.
3. Sophisticated and high performance property.
4. Bespoke panels and personalized designs to fulfill the requirements of each room and villa's owner.
5. Guarantee of modern, friendly, and functional designs, open to updates and extensions.
6. Reliable technology and investment protection the KNX standard guarantees.
7. Maximum performance in the technical installation of your villa.
8. Remote control to enhance convenience, living comfort and well-being of tenants.
9. Energy consumption optimization. 25 - 50% Average energy saving.
10. Transformation of the villa into a comfortable and safe space that enhances quality of life.